WHO CAN BENEFIT?
The University Imperative is a book that helps leadership and management teams in universities to navigate today's increasingly dynamic and uncertain environments.

But, in reality, the book provides a framework for all decision-makers to confidently attune their operations through identifying steadfast factors that, regardless of rapidly changing and complex environments, they must consider and master to deliver great socio-economic benefits.

If you are looking to make a positive impact for our world, and transform lives for the better through the application of knowledge, research capabilities and innovations, this is a book for you.

If you are re-examining the way you deliver value – not only for your customers, partners, employees, and shareholders, but to society more broadly, the book and resources provided in this website will help. A lot!

Now is truly the moment in time when all organisations need to orient toward the delivery of great socio-economic benefits. It is no longer productive to 'free ride', leaving the heavy lifting to others. We all need to help. It's a time to go beyond talking and knowing, and start doing. Join the journey!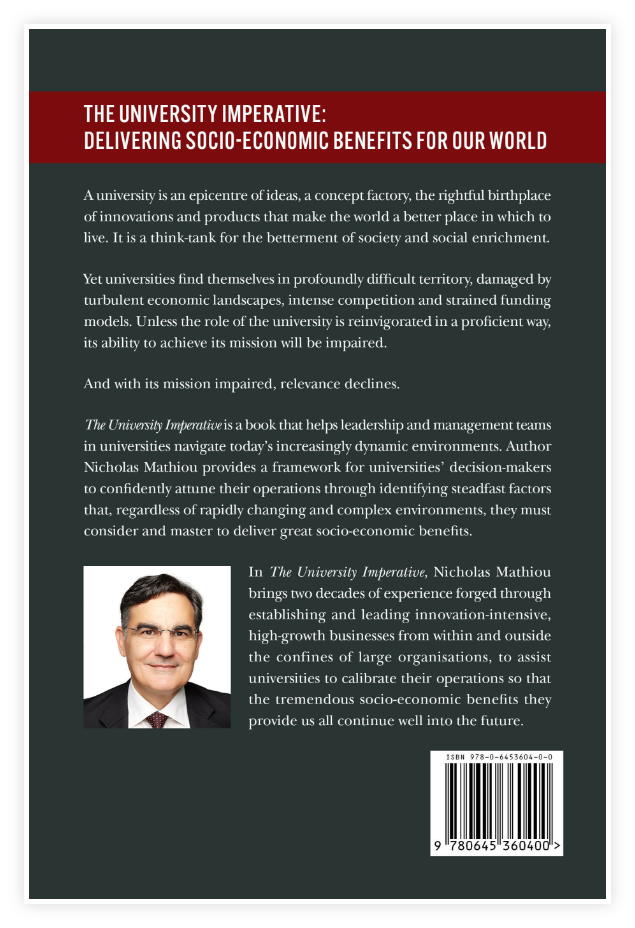 BUY "THE UNIVERSITY IMPERATIVE"

The University Imperative is available in hard copy or e-book formats.
JOIN US

CREATE MEANINGFUL VALUE

Welcome to a group of dedicated people who are striving to make sure great socio-economic
benefits are derived now and well into the future.